By: Salman Ahmed
#KGSCareerFair #KarachiGrammarSchool #KGS #OGS #OldGrammariansSociety #kgsAlumni #Karachi #Pakistan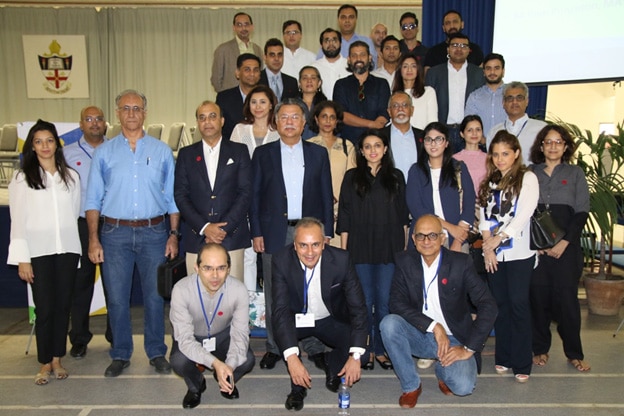 Introduction
The annual 'KGS Career Fair 2017' was held on 18th November at the KGS College Section. The event organized in collaboration with Old Grammarians' Society (OGS) was built on the successful structure of the small group career sessions held earlier in the year. This event also featured a moderated plenary discussion on US / Canadian and UK college admissions focusing on what makes a student application stand out.
Purpose
The programme was designed for class IX to final year A-level students and was aimed to provide insights and perspectives to students regarding career choices and promote thinking around the changing career landscape and trends– from traditional fields to emerging options.
The event intended to provide knowledge of characteristics, interests, aptitudes, and skills to be successful in different careers, understand the relationship between school choices and future career options and how to set personal goals and research careers that may interest them.
Career panel sessions
This year twelve career panels were showcased, ranging from art and architecture, to social change, to technology. Panels were run concurrently, with students choosing to attend the career panel of their choice. Each career panel session was 45 minutes in duration, and there were three back-to-back panel discussion sessions to allow a large number of students to benefit from the panelists. Each career panel included two panelists, who briefly introduced themselves and shared their thoughts, experiences and advice followed by a Q&A session with the students.
Advertising / Marketing
Khurram Koraishy
Sadia Nasir
Architecture
Ali Alam
Arif Belgaumi
Banking / Finance
Khaqan S. Khan
Nauman Ansari
Engineering
Raja Sabri Khan
Imran Moinuddin
Entrepreneurship
Bilal Tariq
Saim Siddiqui
Writer
Shandana Minhas
H. M. Naqvi
Law
Jawad A. Sarwana
Faiza Kapadia Raffay
Medicine
Dr. Ashar Jamelle
Dr. Aneela Darbar
Social Change
Kamyla Marvi Tapal
Dr. Ayesha K. Khan
Technology
Saad Hashmi
Khurram K. Jamali
Govt Service
Omer Shahid Hamid
Agha Jan Akhtar
Artists
Amin Gulgee
Nurayah Sheikh Nabi
Zeerak Ahmed
Plenary session on College admissions
The panelists for this session were Ameen Jan (Moderator / Alumni interviewer for Princeton and Stanford), Fiza Ahmed Baweja (Director of Yale Alumni Schools Committee of Pakistan, Founder of GEFC Britain,  Umair Khan (Author of College Application Hacked: 1. The College Essay), Zara Shaheen Awan (Director of Undergraduate Programmes for the University of London International Programmes At Lecole).
To kick start the discussion, all panelist briefly answered the following question: "What do leading Universities in the USA, Canada and UK look for in applicants?"
Mr. Ameen Jan moderated and asked the panelists to respond to the following questions:
How should you determine which Universities to apply to?
If you have good grades, what else do you need to do in order to be admitted to a great University?
When should you start working on your application?
How should you construct your application essay?
What are some key do's and don'ts to bear in mind in your application?
Feedback
The student feedback showed all aspects were very much appreciated.
Summary
"Having all the breakout groups in the auditorium was effective and gave a good buzz. The audio voice in from Silicon Valley was like the voice of God and, as such, rather powerful. The message that passion is the key and will see you right no matter what the institution, hit home." Dr. Wall, Principal KGS